Send GOODNESS To MUMS
Dear friends,
on Mother´s Day, we received a number of stories of moms of take care of disabled or seriously ill kids for a long time. We chose 15 of them. Stories were sent to us by their children, neighbors, or friends.
We have verified their truthfulness. If there is a chance you might get involved into a chain of help in any way, do it please. :
by auctioning off one of 85 things that were given to us by SAShE.sk creators to help these moms. The auction is running here.

in an address way - to a specific mom (just choose he story) and support her financially

by auctioning off one of the 85 things that were given to us by SAShE.sk creators to help to these moms. The auction is running HERE.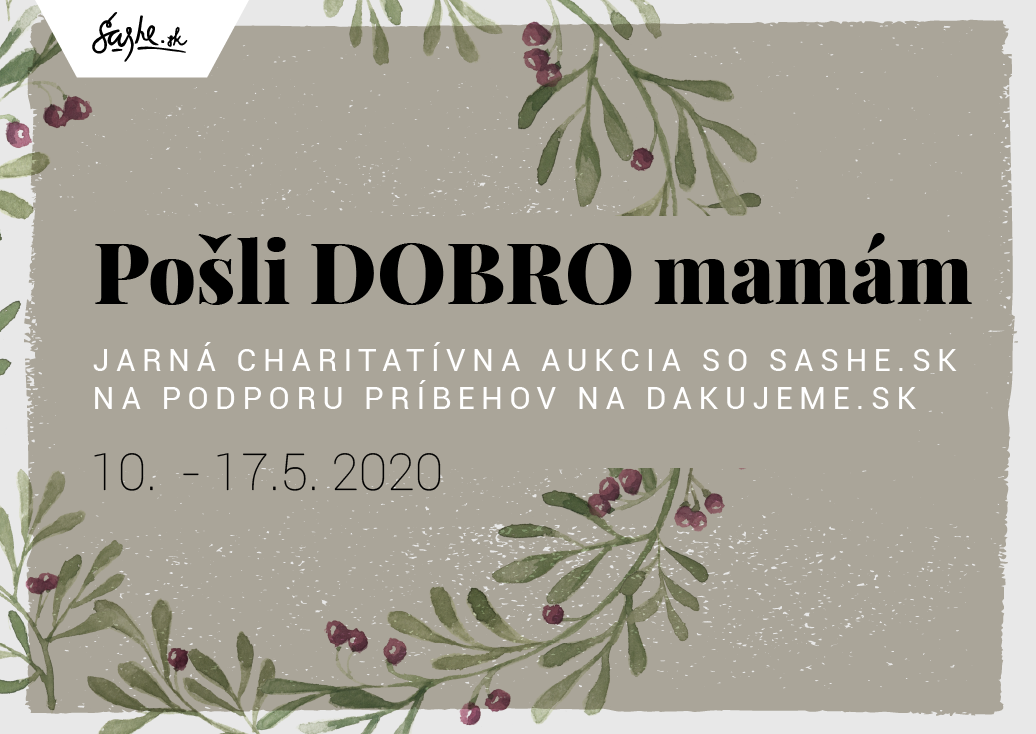 We cordially thank you to 2 anonymous individual donors and: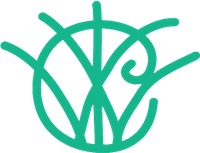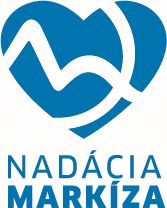 My friend Katka is a selfless mother who lives with her physically handicapped son alone. Although she is truly tested by life, she has remained active and cheerful. She didn´t give up. She doesn´t complain and that is what I like the most about her. Today, a sixteen-year-old Miško is totally dependent on his mother, he doesn´t talk nor walk and has to have diapers. He eats through a tube in his stomach and needs a constant care. Katka handles it pretty well, but even though she wouldn´t admit it to anyone, she doesn´t have it easy. Recent leg surgery has helped him a lot, but his seizures are slowing down the process.
Miško likes to go to school, he has friends there. Unfortunately, his health condition doesn´t allow him to go there anymore. Since he can´t talk, they are trying to find and use some alternative communication. Their dream is to work with the AAK system with the TOBI communication device.
Miško´s favorite exercise is cycling on a motomed, but they do not have it at home. New therapy exercises are effective but also cost a lot. With your help, I would like to offer Katka some sort of support, so that she doesn´t feel that she is alone on everything.
I met Veronika and her mother Zorka 20 years ago. Veronika and my daughter Dajanka had heart surgery, both of them were born with heart diseases. Veronika was also born with Down syndrome and my Dajanka with DMO. Our girls went to the same special school and became close friends. Later, Veronika and her mother moved and my Dajanka passed away. I am still in contact with Veronika´s mother. Zorka does everything she can for Veronika to feel better. This family would need a new washing machine, nutritional supplements and medication for immunity.
Janka, Viki a Jakubko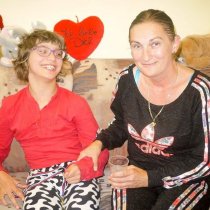 My friend Janka is a loving mother of 2 kids, Jakubko and Viktória. Jakubko has a visual impairment and Viktória has DMO. Janka has been going with Viki to rehabilitation and treatments since she was a child. She saves money for therapies that would help with Viktoria´s condition. The same goes for Jakubko. Janka fights for her children so that, despite the handicap, they have the biggest possible chance of joining a normal life. In their family, only a father works. Everything they do for their daughter costs a lot of money. Currently, Viktoria is undergoing biological treatment with CNS Harmoniser. After only a several doses, she has made a huge progress. Therefore, I believe that, with your help, when we buy this CNS harmonizer, we will be closer to her dream that one day she can stand on her own two feet and take her own steps.
Mother Martina and her son Alex belong to families with severely disabled children. The husband couldn´t handle the situation and became just a "member of the household" without trying to take care of his family. All care for the disabled Alex was left upon his mother Martina. Alex is completely dependent on the help of another person. He doesn´t talk nor sit, uses diapers and needs help with eating and hygiene. The mother recently underwent a surgery after a ruptured aneurysm. Because of the surgery, lifting and caring for Alex is very difficult for her sometimes. The father failed, the mother has health problems and Alex needs care. We will not solve the whole family situation, but we can at least make it easier for them by financially providing care for Alex, his aids and therapies.
Alena lives with her husband and kids in an old house. The mother Alena has health problems, including diabetes. The youngest daughter has cancer, she has been undergoing treatment for eight years and has an individual study plan. One son has already passed away because of cancer and their two other kids, older sister and son, are in high school. Alena does everything she can to secure her children. However, because of her sick daughter, she cannot find a job. She often visits the doctor with her and hopes her daughter will recover completely. She herself has diabetes, but doesn´t have the money for a diabetic diet nor for the specific vitamins for cancer the daughter needs. All their kids are struggling with getting school supplies due to the lack of money. Their old house needs to be renovated, because it is making the health condition of the kids worse. We will be grateful for every euro for the mother and her children.
Michaela is a mom of 3 young sons, whom she loves and is grateful for. She doesn´t live with the father of the kids due to financial problems. All of their sons have serious health problems. Although they were born healthy, they developed health complications over time. The first son has stopped eating after two months and had fevers. He was hospitalized. After three weeks in the hospital, he got inflammation of the ear from the air conditioning and had to undergo an operation to put a tube in his ear. When the second son was five, they were in the counseling center and he got infected from the sick people in the waiting room. Frequent hospitalizations and new diagnosis followed. The doctors found out his right kidney was much smaller than his left one, he is still undergoing a treatment. The third son suddenly began throwing up after eating and had constipation. The doctors found out that he had narrowed large intestine. He has a special diet and is awaiting surgery.
Michaela wants for her children to be healthy and to live as a family. Please, help us make their dream true, so that they can live together and the mother doesn´t have to do everything alone.
My name is Ján Schneider and I am 22 years old. I was diagnosed with DMO at an early age. I can walk, but only on toes and it is pretty difficult for me. I am writing this for my selfless mother. She has been taking care of me for years even though she also suffers from the consequences of DMO. It is hard to live from so little amount of money. We live from a disability pension. My mother was left alone with me and my sister alone. Having to pay current household expenses while maintaining our health is not an easy task. Every year, we try to go to the spa in Kováčová to rehabilitate, but we couldn´t afford it last year. I would like to relieve my mother at least a little of the usual worries about paying for school, garbage collection and arrears. If you want to help, we will be grateful for every euro.
I decided to help my classmate, caring mother Monika, who has two sons. The younger son, 12-year-old Martinko has several health problems. He is a smiling boy and although he can´t say the word "mom", he expresses joy with his happy smile. He needs constant care. After Martinko was born, he began having 50 or more seizures daily. The doctors tried giving him all of the antiepileptics and one day, one of them worked and he stopped having seizures. The seizures lasted for five weeks, which was surely a difficult start in life for him.
When he was 10 years old, the doctors diagnosed him with problem of L-bifunctional enzyme in the cell. He is the first person ever in the world to have this diagnosis. The medicine can´t help and there is not enough money for another research. The doctors advised him to undergo physical therapy and rehabilitation, and more importantly, to learn and observe. Every small step forward is a huge accomplishment. Martinko can sit and is accompanied with toys and music. I would like to make their daily life easier, therefore ask for a donation in order to pay for his medication, hygiene supplies, food and rent.
Mrs. Andrea´s and her husband´s marriage fell apart years ago, mainly because of different views on religion and faith. Mrs. Andrea is catholic, her divorced partner is an atheist and didn´t support her in practicing her religion. The trigger for the divorce was when the husband refused to have children with Andrea, which the church annulled. Andrea has always longed for children, so she decided to adopt and after years, she finally got to a one-year-old Katka. Her biological mom was addicted to alcohol, narcotics and attempted several abortions. As a result of these events, she was born with an unspecified brain disorder. Katka is now 13 and has a strong relationship with Andrea. For many years, Andrea had been buying a special diet for her daughter and swimming with her every day. The daughter´s condition improved because due to these practices. However, Katka is often ill because of her weakened immunity.
In November 2019, Andrea had a spinal injury and was unable to work. Soon after, she was unemployed. She is registered as unemployed, but has not received the unemployment benefit. She has to pay mortgage and with the situation with COVID-19, she cannot find a job, which adds another problem. Regarding this event. Andrea and Katka found themselves in material need as their monthly expenses are significantly higher than their income. Andrea is studying externally at a university, where she is completing her third degree. However, as she is in this difficult situation, she doesn´t have the money to pay for the school fees, which are 500 euros. She fears that if she doesn´t pay them, her 3.5 years of effort will be for nothing.
From the reasons above, it is clear that Andrea needs financial aid, which will be used not only for food, hygiene and medicine, but also for mortgages and studies. She is a big-hearted person who likes to help others, even though she has not lived a luxurious life. I believe that this story will melt your heart and that you will help Andrea in her unfavorable life. Huge thank you to all the good people.
Eva is my wife and she will be 40 this summer. She takes care of our 4 children with love. Simonka, our daughter, is 19 and is a handicapped autistic woman with mental retardation. Nicolas is 16 and is also a seriously handicapped autistic person with mental retardation and cerebral palsy. The youngest 12-year-old Eva is after a spinal injury, from which she could have been paralyzed. We would like to help and please our Eva for all the selflessness, for how caring and hard-working she is. She never complains nor feels sorry for herself. She deserves all of the love and respect for everything she has done for our family.
husband Roman and our children
This is the story of my sister, a warrior. Radka is a young 33-year-old mother of two children. Natálka is 8, Kristínka is 4. Until last year, everything was perfect. At the end of summer 2019, Radka developed back pain, which was felt up to her abdomen. All the examinations that the doctors did, focused on the back and spine, were negative. Therefore, the treatment continued with only pills against pain, which was getting stronger as almost none of the pills worked. One day, the pain was so severe, that as a brother, I couldn´t stand to look at it. Brother-in-law, my sister´s husband, was trying to provide for his family and worked weekly shifts. I took my nieces with me and my sister to the hospital, where she was hospitalized for surgery, for the third time. This year, in January, we got the worst news that no one ever expected. The doctors diagnosed her with pancreas cancer. Within 2 weeks, my sister rapidly lost weight, which was a sign of damaged gallbladder. The chances of operating such cancer are small. After few weeks, Radka was released for home treatment without any further clear instructions. One evening, about 2 months ago, Radka was in unbearable pain. We rushed to the emergency room and found out that gallbladder burst. The operation was necessary, there was a 50 to 50 chance of surviving. For me, my brother-in-law and our whole family, those 5 hours of waiting were probably the worst of our lives. Fortunately, the operation was successful and after a few days, our Radka returned to us. Right now, Radka is in chemotherapy and takes a lot of medicine and drugs. Radka is so strong, sometimes we feel like she is the support for us, not the other way around. We will certainly not give up and hope that she will be with us for a very, very long time. My brother-in-law had to quit his job and has to find it here. That would not be a problem otherwise, but given the current situation in the world, it is. Therefore, we ask every good soul, who will understand their difficult situation, to help this family and especially Radka with the costs of the treatment. Thank you very much in the name of our whole family,
My friend Danielle Lada is a single mother of two children. Her son Lev Simone has significant limitations in movement and mental health due to DMO. They have done a lot together, they are a great example and motivation to me. Today, the result of their daily hard work (and nightly – Lev also suffers from sleep disorders) is Lev
Simone as an independent walker. He can even walk up the stairs. In my opinion, he is a very happy boy that has a mother who gives him and her daughter all the love. Although his sister, little princess Darci Elen, is still in kindergarten, she has learned from Daniella how to take care of her brother. At her age, she already understands so many things that her peers won´t even think about in 10 years.
They are a strong family thanks to their mother, who has brought them into the world despite all the difficulties, gives them unconditional love, attention and care. Since she is all alone on everything, I decided to relieve her a little of the worries about the struggle to improve her son´s health.
I want to surprise my mother with this story. My brother Tadeáš has been in a wheelchair since he was born. He suffers from an incurable disease called muscular dystrophy. Tadeáš totally changed our lives. I am happy and grateful to have him, he shows us the true selfless love and teaches us to be better. He is a warrior who has survived more than all of us combined. He works very hard on himself, he never complains. Every year we try to go to the spa with him. However, mom has to pay a large amount of money as a companion. Tadeáš himself cannot do anything, he is dependent on us. The spa helps him a lot, he adores it. We try everything, including rehabilitation, water and massages, hoping it would improve his condition. I admire my mother, who has given up everything and takes care of Tadeáš 24 hours a day, with love, even though they are in a difficult situation right now. I would like to let her know through this story that I am with her if she needs me. She is a strong woman and my role model.
Daughter and sister Zuzka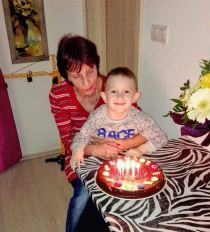 Oľga a Kristiánko
My name is Marianna. I met Mrs. Oľga and Kristiánko when I was walking my dog. Mrs. Oľga told me that she has been taking care of Kiko, as she calls him, since he was born. For three years, he has been in his grandmother´s official care, approved by the court. She is like a mother to him. She tries to give him a childhood where he doesn´t have to worry or be concerned about anything. He was diagnosed with DMO, type spastic hemiparesis of the right side and shortening of the Achilles tendon on the right. He needs all-day care and rehabilitation due to the handicap. He will soon have an operation on his shortened Achilles tendon, to make him feel etter. At the moment, he cannot step on his entire leg and is in pain. Grandma takes care of him herself. She cannot find a job since she has to take care of Kristiánko. Employers don´t like it when their employees are often missing. She has to pay 320 euros for sublease and 28 euros for electricity. I admire Mrs. Oľga and how much she cares for Kristánko and does it with love. I would like to help them at least a little in this difficult situation, so that they don´t lose the roof over their heads, they have the necessary medication and that Krstiánko can go to rehabilitation in near future.
Mama a 4 deti
Martinka has a mother of 4 children. She has older two daughters and a younger son and a daughter, who are twins. Her only son was diagnosed with DMO when he was born. His disability is serious, he visits several doctors. The family goes with him to the rehabilitation and therapies in order to make as much
progress as possible. Martinka and her husband are divorced and she was left alone to raise her children. She loves them unconditionally and supports them as much as she can. Martina cannot be employed, she receives a care allowance for her son. Martinka herself has also health problems, including diabetes and scoliosis. Despite everything, she likes to help others and cares about the people around her. That is why I turn to people of good will for help. Their bathroom needs renovating, the shower needs to be replaced.
On behalf of Martina and her children, thank you from the bottom of my heart for all the financial help, Neighbor and friend Štefan